Hey my dear readers,
Are you prepared for some Korean food? I honestly always focused on Japan and didn't know much about Korea when I started my studies. I learned a lot in a very short time; that it's very similar to Japanese society but on the other hand a loooot different! Although I have many Korean friends who I met when I studied in Japan I also don't really know about food – the only thing I know, is, that Koreans put Kimchi on every dish. Really, every dish. I love kimchi too but I don't want all my dishes to taste like kimchi… but my friends put it on rice. In soup. In top of pizza or spaghetti carbonara…. there is no rule to where you can apply kimchi, that's the only thing I learned 😀
I did Bibimbap once with a Korean friend in Japan but unfortunately, I didn't know much about the spice paste so I ended up with the most spicy Bibimbap you can imagine. It was so hot I almost collapsed. So I couldn't really enjoy the dish. When we were eating in the cafeteria of our university we saw a little poster of the Korean embassy who held a free cooking class about Bibimpab – free Korean food, we just had to join! We also invited the two Korean girls studying together with us because we thought it might be nice to cook something together 🙂
Bibimbap is a dish where you mix cooked rice with a lot of things – usually a lot of (fried) vegetables and some sort of meat, fish or tofu with an egg on top. 밥
bap
means (cooked) rice or even just "dish" in Korean and
비빔다
bibida
is a verb that means "to mix" so it actually just means "Mixed rice (dish)" 🙂 Although it is very easy it is a standard Korean dish that you can find everywhere in Korea. I pictured our little cooking course sponsored from the Korean embassy, thank you for a very fun evening!
The cooking team! From left to right: Flo, Yurim, my humble self, Nicola, Sabrina and Boseol – we're all TEACH students except for Flo on the left who studies Asian Society and Economy. I really like Yurim a lot she is such a sweet and funny girl!
Since we were there quite early (they had limited participant numbers) we helped to set up the ingredients which were basically tofu, sesam oil + seeds, hot Korean paste, salt, sugar, chili, garlic, cucumber, carrots, radish and zucchini, later we also added meat, soy sauce, spoons and other stuff.
Everyone got a recipe sheet from the Korean embassy – unfortunately there weren't any amounts written how much we would use from what ingredient so we had to wait and listen to the instructor all the time which was a bit difficult since there were a lot of people.
First we prepared the hot sauce and used the hot Korean paste, garlic, salt, a bit of sugar, sesame oil and soy sauce (if I remember correctly…)
Next up was cutting the carrots, cucumber, radish and zucchini. Lazy as I am I chose the zucchini because it was one of the easiest to cut – you have to cut as thin as possible! While we worked, Nicola enjoyed Korean green tea with sesame seeds.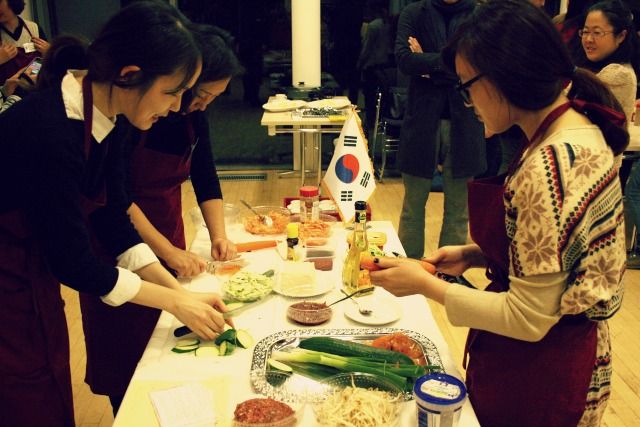 Almost done! We spiced the radish with chili, vinegar and salt, then fried the zucchini, carrots and ground meat.
Along with the bibimbap we had doenjangguk – Korean soybean soup. The soup was already prepared, we only cut the tofu, spring onions and added those to the soup 🙂 It's kind of the Korean version from miso soup in Japan I heard – I didn't really like it since I also don't enjoy miso soup (it tasted a lot different though but it's a side to most dished just like miso soup)
Ready-to-eat bibimbap! You put rice in the middle on the bowl, then add all the sidedishes you prepared around the rice on the side. In the middle you put either meat, fish or tofu, depending on what you used. On top of that comes a fried egg and as much hot saue as you would like – since I overspiced my last bibimbap completely I was very careful (I added a bit more later, though) Although it looks pretty as it is….
..remember that it says "mixed rice" so you have to destroy the beauty and mix everything together! 😀 We were the last who got their rice and our rice was pretty burned so it was really difficult to mix it evenly. It tasted great though! I missed bit of salt but that was okay. I think I would make bibimbap if I had lots of small leftovers or in a bigger group.
This was a really fun and delicious event, I'm glad we went! Plus, free food is always good ;D Free Korean food is even better! We will definitely participate if they are having something like this again 🙂 Typing this post really made me hungry! I look forward to living in Seoul next year and I'm curious about all the food I might encounter. What about you, anyone else crazy about Korean food culture?
Wish you all a happy day! Lots of love,