NEW IN OCTOBER: FLUFFYNESS, BLACK + SOME BEAUTY GOODIES.
Evening, everybody!
Today is Halloween! Wheeee. Unfortunately, no one in Korea cares. Like, at all. There are some Halloween parties in the "foreigner disctricts" of Itaewon and Hongdae but since I don't want to spend money and had quite a long day, I did not go. (I also don't have any costume, so.) Instead of Halloween, there was a German quiz at Korea University for the German learning students in Korea. It was quite a big event with approximately 100 guests, 40 questions, 11 teams and a big dinner with German beer afterwards (Oettinger…. cheap Bavarian beer but who will be picky when in Asia?! Any beer > Korean beer.) I had no idea about most questions and was absolutely baffled when one Korean instanly knew the name of the Korean marathon runner who did run in the Berlin Olympic Games back in 1936. At least I knew that the license plate CH belonged to Swiss and… I'm pretty sure there was some other stuff I knew. Anyways!
Although I need to save money there was of course some stuff that I just had to buy because… you know. It's getting colder and I have to prepare for death-cold winter in Seoul. I have a huge winter coat with me but not as many long shirts because it was impossible to fit into my luggage. If you ever go abroad… make sure to go in summer. It will save you so much pain in packing.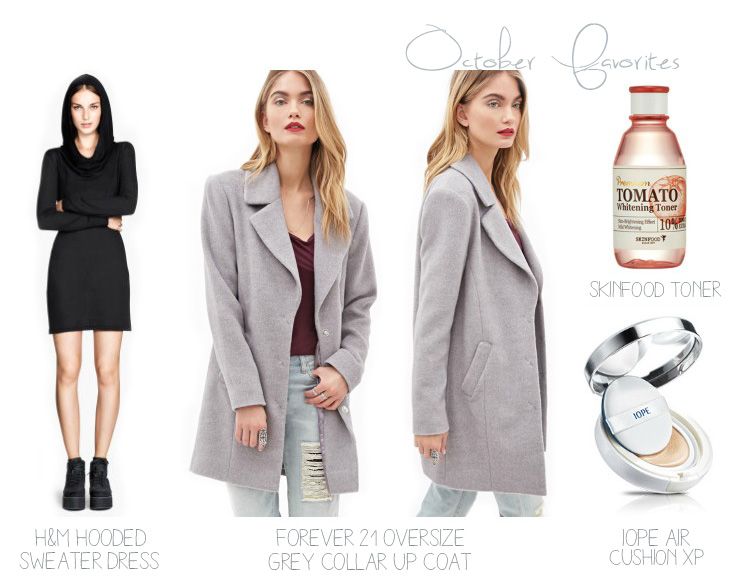 The
H&M dress
was a must-buy because it is just such a unique cut with the hoodie! I've seen it online and utterly fell in love and tracked it down for two months before I found it here in Korea. I love long sleeved dresses so I really could not pass on this one, I feel super cool when wearing it. The
oversized coat from F21
was an impulse buy; I saw it, tried it and loved it so much that I had to get it. In my defense, I don't really have a not-yet-winter-but-already-quite-cold-coat and I also don't have any outerwear in this icy grey color which I really like and deem very chic for winter. I plan on embellishing the collar which will turn it into a pretty unique piece in my opinion 🙂
As for the beauty products… I did run out of my Muji Whitening Toning Water and needed a replacement. I've always liked Skinfood and their
Premium Tomato toner
seemed a good choice, especially since I have so much pigmentation from my outbreaks on my cheeks at the moment. I'll report back how that fares! The
IOPE cushion foundation
was on sale one day at Olivia Young so I HAD to get it because I have never seen it on sale before! I got it for 10,000 Won less plus a huge deal of samples. That's all I got this month because I really have to say some money for my upcoming and unexpected trip to Japan! Bonus Outfit Pic from my shopping trip in Hongdae where I got the dress and coat:
The T-shirt dress I'm wearing is the one for 5 bucks that I got at Gangnam! I am still extremely in love with this jacket, I feel it lifts every outfit automatically up and makes it more unique! Also, these boots already survived daily wear through winter in Germany and I'll count on them this year too. They are extremely comfortable and have lots buckles that you can't see here sadly.I want to post more random outfit snaps but I don't have a big mirror in my dorm.. :< Also can't wait to get a new phone as this one is.. probably.. 3 years or older which is why the camera quality isn't the greatest. It works though (which you couldn't say of my Blackberry that only made it through one year =.=") so I don't want to complain 🙂
Hope y'all have a happy Halloween and OMG it's November already!! (In 4 minutes here anyway.) Next month I'll go to Japan wheeee! What kind of post do you wanna see next? Personal Korea life post, skincare review or do you wanna see something completely different for a change? Let me know! 🙂
Lots of love,