Look: Ruby / Red from Once Upon A Time
Hello dearies,
I just got inspired by an awesome lady who happened to become my new girl crush. Do you know the TV series Once Upon A Time? I read on some blogs whose writers were obsessed with that series and I decided to give it a go and watch it too. The trailer didn't made me wanna watch it, and it went like that: First episode:
MEH
. second episode: Meh. Third episode:
meh
. Fourth episode:
Well
. Twelfth episode:
OHMYFUCKINGGOSH
Need to watch more!!
I certainly needed some time before it caught me but now I'm hooked by the fabulous storylines. Don't let yourself fool with the poorly looking trailer, the whole story with all its twists is awesome.
Back to the crush-thing: I fell in love with actress Meghan Ory who embodies Ruby or Red, the Red-Riding Hood. I think she's really beautiful and I love her bold styling especially when it comes to make-up! So I thought of making a whole make-up look dedicated to Ruby 🙂 In case you don't know of whom I speak: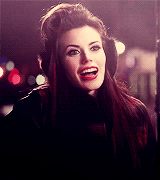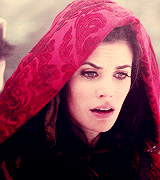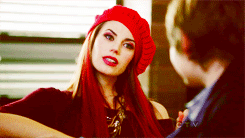 Isn't she gorgeous? Ruby being the Red-Riding Hood always has a lot of reds on her; the lips, clothing and even her hair always seem to have at least a red touch to them. Her eye make-up is usually very bright with a lot of pinks going on there and is usually more heavy which I like because mine is the same 😀 I'm not a nude look-like-I-have-no-make-up-on-me person. No, that's not me. Also, she sometimes has that rockabilly touch to her which I really like! I practiced the front roll you can see on picture #1 and #2 because I wanted to incorporate that into my look.(But failed because my hair was freshly washed and as we all know it's impossible to style that hair afterwards u_u") Okay, shall we start..?
Here's some of the products I used to create this look:
I

I wore my new MAC foundation (which I'm wearing everyday since I bought it, detailed review will follow!) and the MAC blush in Springsheen I bought 🙂 Love both of the products! For the eye, I used a mixture of silver, different pinks and a reddish copper. Lashes are Diamond Lash and lips are the 24h Cosme Juicy Lipstick in #03 Cranberry! My first and still my favourite lipstick.
So gladly, I am just as pale as Ruby is in real life so I didn't need to do much to get that effect. Just applied my normal foundation and my Shiseido powder over it and that's it! I actually had a lot more blush on, you can't really tell from the pictures :/ Important for that look are her really strong eyebrows, the red lip and of course: the more kajal the better as you can tell from the pictures. Hope you like the look I came up with! 🙂
So tell me, how do you like this look? I actually thought about making a series out of it and adding interpretations of other characters! I'd really like to do a look for Rumpelstilzken, the Evil Queen and the Mad Hatter!! 😀 What do you think of that? Could be a weekly series or something I thought.. Tell me what you think of it! 🙂 I of course do not look like Ruby, but it's the kind of look she would go for I guess. My face is too chubby to actually look like her 😀 Well, I don't mind. It's only an interpretation after all.
I won't post before next week I guess because this week on Sunday, I'll have the most important Japanese exam EVER. Will decide if I will be able to enter interpretation school or not, so please, wish me all the best! I really need it. >__<""
Hope you liked this post and have a fabulous week! Much love & See you soon!
Sam