Laneige Pore Control Cushion Review in #13 (Light Beige)
Happy snowy day everyone!
Today I had my final exam! Like, final exam of my whole MA program! YES! I am so excited. Also, I had a huge coffee with sugar and whipped cream so I am kinda going a bit berserk at the moment (this body doesn't like coffee). Also, it's snowing for hours and I fear it might get tricky to get down the hill I live upon tomorrow. But for now, I am happy that I made it through all of my exams and I am fairly certain I should get a good grade in my Korean class because I owned this last exam. Can you tell I'm super pumped?! 😀
Also, I have a new header! The more adorable version of myself was drawn by my awesome friend
Lily Hong
, thanks for making me cuter than I am dear! ;D Go visit her blog and buy some of her cute sticker sets that she designs herself (Pokémon, Sailor Moon, anyone?! Btw, I'm still mad you only ship within the US, I thought we were close.. '
sobs
) Back to topic.
So after I got lots of good feedback for my thorough review on the IOPE Air Cushion XP, I will do the same for the Laneige Pore Control Cushion today, with before and after pictures of course 🙂
I only bought a refill of the Laneige to test it out, because Laneige cushion refills can fit into my IOPE case as both are made by Amore Pacific. Most (all?) cushions made by Amore Pacific (Mamonde etc) should fit into each other's cases as far as I know. I bought this refill for 13,000Won with shipping from Gmarket. I am NC15 and use the C21 with IOPE but went for the shade 13 Light Beige with Laneige because it is their lightest shade and usually the lightest shade fits me well with Korean cosmetics. You can already see from the cushion, although it does not display the real color of the foundation, that the shade 13 is quite lighter than the Iope 21. Also, this is how my sponge looked like after 2 1/2 months of using my IOPE before I ran empty :/ I didn't know that the refills came with a sponge but I am super happy it did! I would have bought a new one otherwise.
As you can see, Laneige 13 is not only a lot lighter than IOPE's lightest shade, it is also quite thick in comparison. I initially pressed too hard because I need less foundation with this due to it's thicker consistency. Although the IOPE 21 matches my skintone better, the difference is not as noticeable once I blend both foundations in. Also, Laneige Pore Control dries very matte as you can see here, opposed to the dewy finish of IOPE.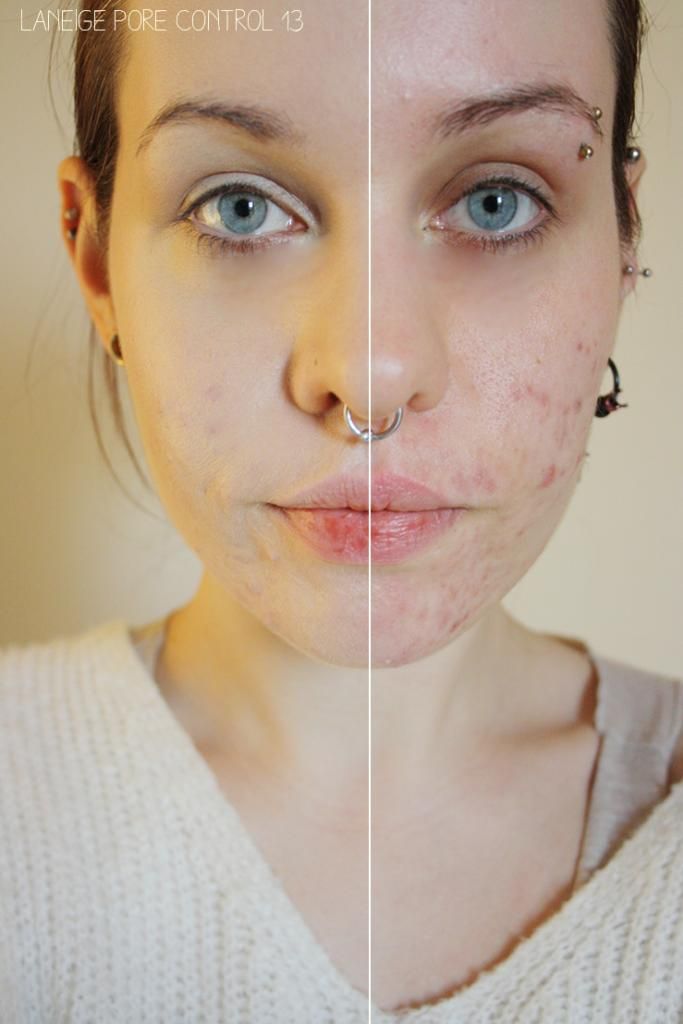 Left ith Laneige, right side my humble bare face. As always no photoshop. Compared to last month my breakout healed wonderfully with the help of vitamin C and AHA 🙂 I still have red acne marks but my skin is a lot smoother and not as bumpy as before. Conceals redness and acne marks very well.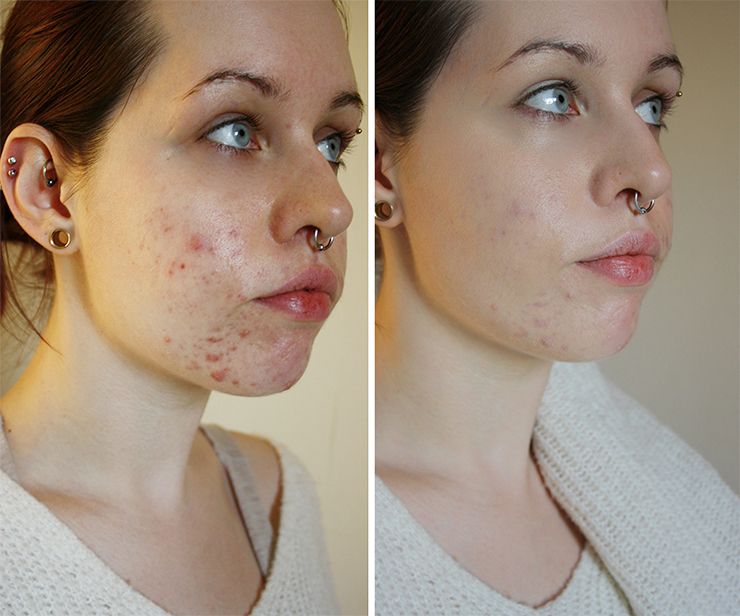 This was the side where I had the huge breakout (see pictures of my IOPE review). Still a bit red and I occassionally break out a bit especially when stressed, but as you can see I get an almost flawless coverage with the Laneige. You can also see there are almost no bumps left, chemical exfoliation ftw!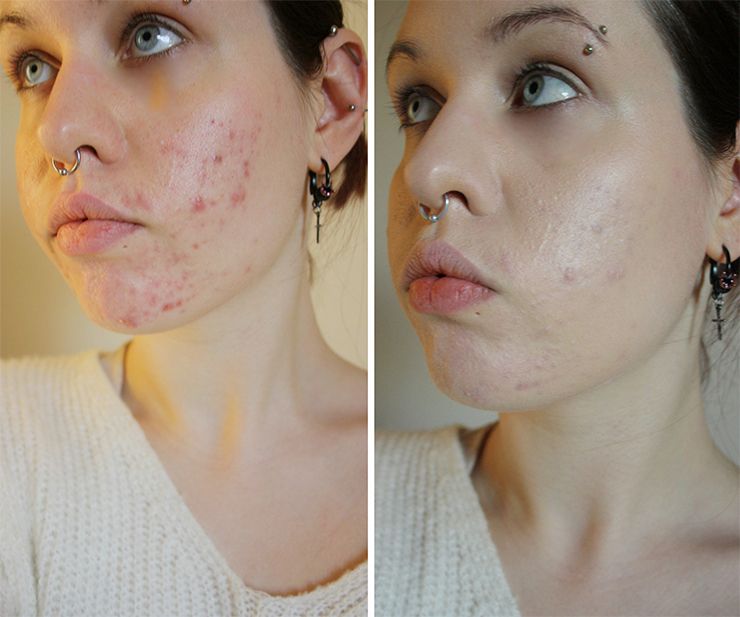 I barely break out on this side but these stubborn red marks just won't go away completely. I try to be patient, I really do. It's hard though. Although it has a very heavy coverage, it still lets some minor flaws shine through which I actually don't mind – I think it does look more realistic and less cakey that way.
One note about the Laneige Pore Control: It does not look as good as it does in these pictures in real life. It photographs extremely well and I will def. use this when I know that I will do a shooting or if I go to an event where lots of pictures will be taken. In real life, it doesn't look as flawless as here, so please be aware of that and judge these pictures with a grain of salt. (It still looks pretty good though! Just slightly different than here.)
-high coverage (slightly better than IOPE), very well suited for people with acne and/or acne marks & oily skin
-dries quite matte/def. not a dewy finish, just some minor shine
-good staying power, does not transfer and survived an hour walking in a snowstorm (yes, it's cold in Seoul)
-will probably cling to dry patches especially because it dries matte. I never have dry patches because my skin is oily, but I think this might not be the best foundation for my dry-skinned folks
-due to its thick consistency it is harder to blend than the IOPE
-shade 13 might be more suitable for people with NC10, borderline NC15. I can wear this if I blend it well but it is a tiiny bit too light. I would probably try shade 21 next time.
-is quite heavy on the yellow-tones/neutral/beige, def. not pink.
Do I like this more than my holy gray IOPE Air Cushion XP?
No. It's pretty darn close though. It is a very good cushion for people with oily skin and especially if you have blemishes that you want to cover. It makes your skin looks almost flawless yet natural. I personally don't like the matte finish because it makes my skin look quite dry. That being said, I prefer the IOPE because it has a dewy finish, a lighter consistency and glides on better than the Laneige Pore Control. I think I will keep a refill of this around for photoshoots or when I need more coverage. I think this could also work better in the summer than winter! So I will keep this around but will continue to use the IOPE on a daily basis 🙂