KOREAN SKINCARE REVIEW: Su:m37 Water-full Moisturizer Comparison
Good evening everybody!
It's 2:30AM and I am writing this post as I am waiting for my boyfriend to come online. We're still on 7 hours time difference and I have to use it until Germany is changing clock time and we're left with 8 hours which means we'll only talk during the weekend *sad face*
On another note, I am currently crazy about the Korean brand Su:m37 (which you might have noticed at my last post) which is a middle to high-class brand, meaning this, unfortunately, is not a cheap brand. It is the beauty brand of the company LG (yes, they're even doing skincare, is there anything they cannot do?) and are famous for using an abundance of fermented products. There are still no scientific papers on the use of fermented products but it is the latest craze in Asia since all the "First Treatment Essences" came out that revolved around fermented ingredients and the popularity speaks for itself. Surprisingly, Su:m37 is not a super popular brand in Korea, which I think is because of the higher price tag. In a society, where every beauty store has three or four stores on every street corner and sales almost 24/7, you might not be mentally prepared to pay more than 10 bucks for what you want. And don't get me wrong, there are a lot of cheap and good products out there – I have a basket of products to review and they range from all price categories 🙂
As for Su:m37, I was getting sucked into the craze about the Rose Miracle Cleansing Stick and discovered the brand this way. When I picked up my cleansing stick at the Su:m37 counter at Lotte Department Store (did you ever, as a pale, tall Westener, go there and speak fluent Japanese with them? That was pretty fun. The staff was so confused by my appearance.) they, as a high-end Korean brand, showered me in samples. Like, really. SO many samples. I tried to hide my excitement in that moment but I was grinning like a little baby, prepared to try them all.
**Note: I would have loved to list the ingredients but they are not printed on the sample packages unfortunately. When I get my hands on the full size (and in one case, I'll definitely go full-size) I'll update this post with the info.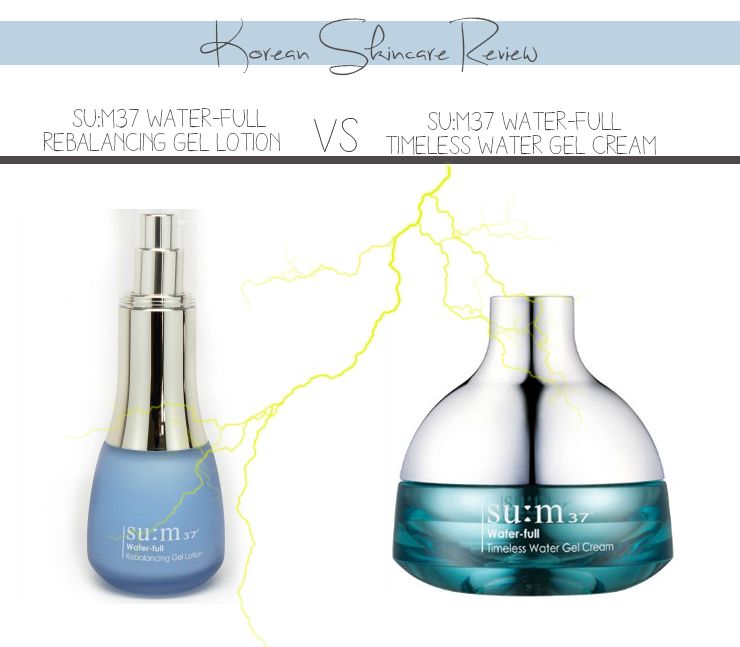 As my Hada Labo moisturier didn't really work for me that well, I decided to try out the moisturizers they gave me as a sample, the Water-full Rebalancing Gel Lotion of which I tried 5ml over the course of a week and 4 samples of the Water-full Timeless Gel Cream which also lasted about a week. Since both are from the same line and have similar names, I was so confused by what might be different. In order to help you chose I listed all the different properties for you and made this chart as I find comparison reviews can get pretty unclear.
As you can see from this chart, I personally liked the Rebalancing Gel Lotion a lot more than the Gel Cream. However, take this with a grain of salt as your mileage may vary. For oily skin types such as myself I'd definitely recommend the gel lotion. It absorbs sooooo fast. Like, it literally vanishes upon application. Yet. my skin feels super soft and hydrated. I absolutely love this in the morning as my Hada Labo milk left me greasy and waiting forever. Dry skintypes however might enjoy the gel cream as it is thicker and provides more moisture. For me, the gel cream did not sink into my skin at all which is something I can absolutely not stand. Also, I hate jars for hygienic reasons. Although I always wash my hands before application I am a bit paranoid about it and prefer anything but a jar.
To be honest, both products are glorious and probably the best moisturizer I used so far. The smell is also to die for. I first didn't like it but I did grow to love it. I did not break out from either of these products and would recommend them if you can get your hands on any samples as the full-size is quite expensive (however, I've seen them for cheaper at Amazon, Ebay or Gmarket sometimes) Tne gel cream sometimes is listed as original price 120$, this is NOT true and a rip-off. The full-size in Korea costs 50~60$ depending on where you gonna buy it. I also have a sample of the toner from the Water-full line so I'll be reporting back how much magic in that bottle resides.
Hope this review was helpful, be prepared for a lot more to come, I hoarded so much stuff during the first month of being in Korea… I won't even thinking of how I'll transport that all back home. I just refuse to think about that.
Lots of love,