Hey y'all,
I wanted to post this almost a week ago but then – life happened and I just really feel exhausted at the moment and however, the timing never was right. Today is a beautiful Saturday with sunshine and birds and I'm staying home (at least until the sun sets, then I'll go out with some friends – I am really really bad with heat.) so I kind of have no excuse to let you wait any longer! I have to prepare a lot of presentations in Japanese which is no problem for me, but it takes a lot of time. Even a presentation in English or German always takes up so much for gathering data, organizing it, writing your part, making a power point that does not look absolutely crappy and creating a handout. Ideally, you have some time left to actually prepare for the actual presentation. But don't wanna bore you with that! Just know, that I volunteered for all of the first presentations this term so that I will hopefully be done with everything in 2-3 weeks so that I can focus on my thesis which I am excited about 🙂
Almost everything I wear in this outfit are things that I bought in Harajuku last (last) Monday. I especially love this dress – it totally reminds me of Aria from Pretty Little Liars! (I actually watched all 4 seasons last month.) I was searching for a casual, not-too-sexy black floral dress and this one has just the best of everything: it's short but not too much, it has cool cut outs but then again, not too much and I love the print of the rosy pink combined with the black.
I actually took me a bit of time to get used to these round glasses – I was desperate on a sunny day in Harajuku and bought these for 300 Yen just to have something to cover my eyes from the sun. I'm usually one for more high-quality glasses since you only have one pair of eyes. Out of money issues, these just have to suffice until I'm next time in Tokyo. Surprisingly, although I consider my face to be more on the roundish side I really like these glasses on me.
Harajuku really is great for some bargain shopping – if you're in that particular kind of style. However, I always manage to find some real great items on the 5-level Forever 21 there 🙂 I still wish I could take better outfit pictures but I still have no one to take any pictures – I'm not getting along as well with the people of my program as I initially thought so I won't bother anyone of them to take any pictures of my outfits. On the other hand, I found some really great people (with whom I'll grab dinner tonight and have some anti-stress beers, yes!)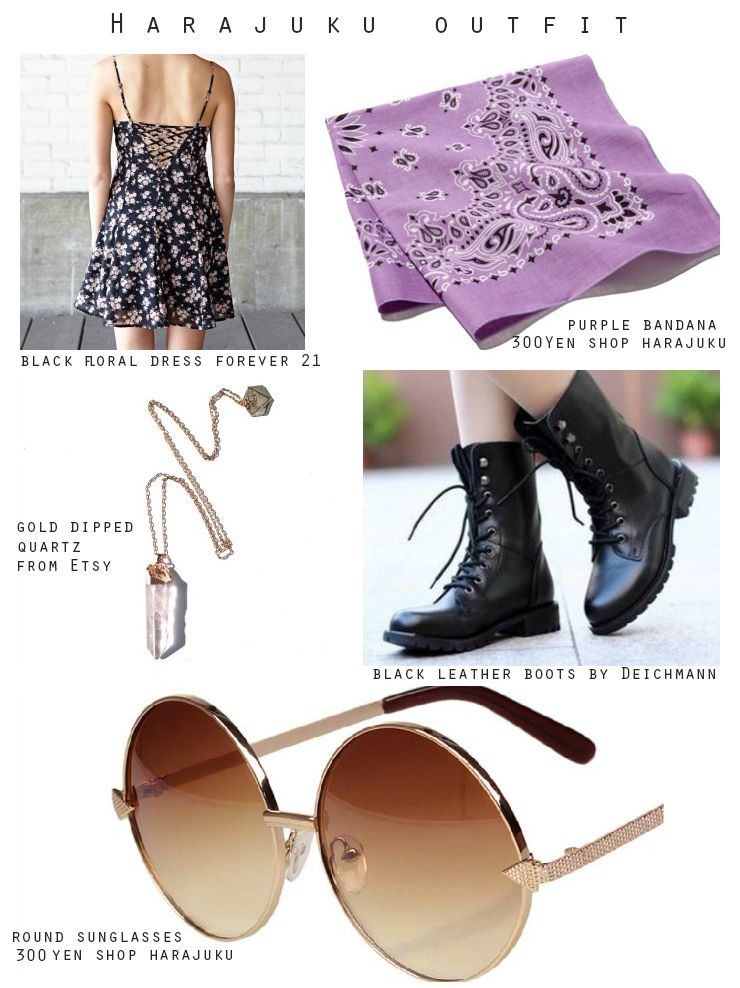 The golden dipped quartz necklace I bought from Etsy a while ago is my standard-jewelry to go; it is just SO pretty, worked really well and it suits every outfit, no matter if you go into formal, sweet or more rocking style. I am really a big fan of crystal necklaces 🙂 The boots from Deichmann did I buy last winter in Germany, and I totally count on them for the winter in Seoul. They are extremely comfortable and astonishingly soft. I love to pair these up with dresses so it's not all too female – I like al little tad of "genderbending" in my outfits 🙂
Hope you liked this as much as I had fun in making this post! I am actually thinking about holding a
Giveaway
soon – someone is working on a new layout for this blog and I am thinking about getting a real domain – you know, my own domain instead of just some .blogspot.com blog. Layout + not having an own domain are one of the main things why I did not blog as often as I could these past weeks (and of course, doing my masters in Japan could have had a little influence on the time.) So in order to celebrate that then, I am thinking about a Giveaway – I love making presents so why not! Only thing: I really don't know what my readers would like. So tell me in the comments what you would like and maybe I'll make that happen.
Hope you liked this as much as I had fun in making this post! 🙂 Have a wonderful weekend!
Love,