[REVIEW] BATTLE OF THE BLEMISH PATCHES!
Dear readers,
Are you ready for a fight? Because today we're going to have an epic battle between all the blemish patches and/or hydrocolloid bandages that I've tried so far in my journey to clear up my skin. As most of you know, my skin condition is pretty bad. I get breakouts a lot, especially when I am stressed and you probably can imagine what moving from Japan to Korea has done to my skin. I was so stressed out that my skin looked like a battlefield. I am still in the process of clearing it up but what has helpes me tremendously were blemish patches.
What are blemish patches? For me, discovering blemish patches was like a jackpot. For some reason, these little helpers are non-existent in Europe so I was thrilled once I moved to Asia to discover these. I am touching my face a lot (trying to get rid of that bad habit) or pick at blemishes so these have really helped me a lot to clear up my skin. Most bigger cosmetic brands carry blemish patches; they are mostly clear and come in various sizes. Some brands sell them per sheet or in a box which usually contains enough patches to last you a while. They do range in quality, ingredients and price which is why we're having this battle tonight.
And what are these hydroco…something you're talking about?
Hydrocolloid bandages or dressings are traditionally used for wound healing. The dressing is applied to a clean wound absorb water and swell, forming a gel which is held within the adhesive. The moist conditions underneath are intended to promote wound healing without causing softening and breaking down of tissue. They are sometimes used on the face for acne and lately have become very popular for treating pimples and blemishes due to
skincare communities like the one on Reddit
that I frequent on a regular basis.
Now, not every blemish patch you can buy out there works like a hydrocolloid bandage. Some are attempting to dry out the wound in order to promote healing and are very harsh; others have hydrocolloid properties and are a lot more gentle to the skin. It took me a long journey of trial and error to find "the good ones." Today I am sharing all blemish patches that I have tried so far and my impressions of them.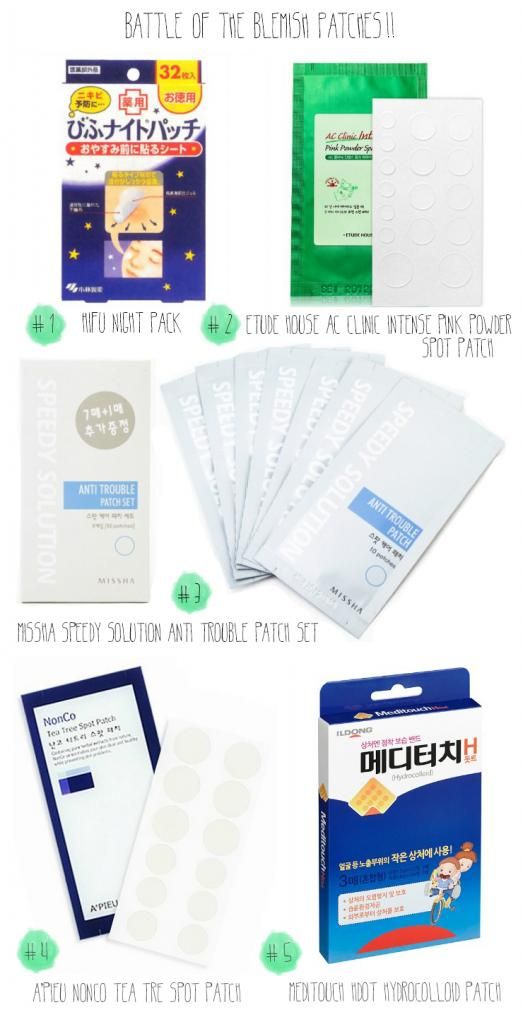 #1 Hifu Night Pack (ひふナイトパッチ) : Unfortunately, blemish patches are not as popular as they are here in Korea. While I was in Japan I was desperately searching for some but these were the only ones that I could find. They are white and very thick in contrast to the usual very thin and clear film 🙁 Needless to say, these are for night time use only as you look kind of ridiculous with them on. I once skyped with my Mom while I had two of those in my face and she couldn't take me serious during the whole call.
Adhesive: The adhesive in these things is a joke. They kept moving around my face and sleeping without losing them completely was just impossible.
Effect: No effect at all. These were my first patches to try and they disappointed on every possible layer. After a whole night my skin underneath was moisturized but the blemish was as big and inflamed as the evening before. Would never ever recommend to purchase.
Rating: 0/5. These have done nothing for me.
#2 Etude House AC Clinic Intense Pink Powder Spot Patch: You probably know the pink powder that Etude House sells for treating blemishes. The brand claims that this works exactly the same, just in patch form. I am not sure how this works as the patches are clear as day but let's say we believe them.
Adhesive: Good adhesive properties, they did not move around unless I did wear them for a really long time. They are not as light reflective as some others so sometimes I also wore them on the day without feeling awkward about it. They come in 3 sizes although I only ever needed the small and medium size, I did cut the big size into smaller ones.
Effect: For whiteheads, these worked amazing for me. They were able to get all the gunk out of my pore and left a clean wound that healed faster than usual. However, I did not find them very effective for red, inflamed pimples. I also felt they left the spot where I put the patch on a bit dry afterwards.
Rating: 3/5. Good price and very effective for whiteheads. Lost some points as they were not effective against inflamed pimples and left my skin a bit dry.
#3 Missha Speedy Solution Anti Trouble Patch Set: I was very excited about these as it was my first purchase from Missha. They come in a huge pack (80 patches) for about 5€ / 700Yen in Japan and have two different sizes.
Adhesive: Strong. For my taste, too strong. They did not move around at all but I found them almost a bit painful to remove and was very concerned of the patch hurting or ripping open the wound underneath.
Effect: Did not really do anything for me other than making the pimple appear less red with patch on. Pimples shrunk in size maybe a little tiny bit. However, not enough benefits to actually be able to tell, not even after 2 days of use. Very disappointed.
Rating: 1/5 One point for the good price & camouflaging effect. However, I would definitely not recommend to purchase as they failed in what they were designed for: Promoting the healing of pimples.
#4 A'Pieu NonCo Tea Tree Spot Patch: My first product that I tried from A'Pieu. For 3500Won (about 2,50€) you get 120 (!!) patches. As my Korean is still very very basic, I was not able to see how many patches were inside and bought two boxes. I now need to get rid of 240 blemish patches. I really hope I won't need that much in the future… (anyone tasting a giveaway here..?)
Adhesive: Very strong. I misplaced one patch a bit and wasn't able to replace it as it was sticking very very strong to my skin. However, with increased time of wear the adhesive gets less strong and the patches are very pleasant to remove.
Effect: As these are using tea tree as a main ingredient, I was worried that these might be too harsh. However, I find them to be very gentle, no stinging or anything else when wearing. They calm down inflamed pimples as well as get rid of the gunk from whiteheads. They promote healing but doesn't leave me with dry spots so this is a big yes!
Rating: 5/5! Amazing price/quality relationship. They were also the least noticeable out of all the patches I tried so far, big recommendation!
#5 Meditouch Hdot Hydrocolloid Spot Patch: I was browsing the aisle of my local supermarket in order to find some hydrocolloid bandages everyone was raving about over at /r/SkincareAddiction. I was surprised when I did not only find bandages, but even spot patches with hydrocolloid properties! But then again, Korea is so much more advanced than we (speaking: Europe & US) are when it comes to skincare.
Adhesive: Okay-ish. They are not sticking very strong to the skin but it is enough for not moving around. They are getting less and less adhesive with wear but so far they stayed in place overnight (I move a lot and sleep on my face). They are a lot thicker than blemish patches though and therefore much more noticeable.
Effect: Love love love these. They provide moisture while getting rid of all the gunk and calming down inflamed pimples. I feel they are also helping a lot when the pimple is in a stage of healing but still a bit read or inflamed. I love how gentle these are to my skin.
Rating: 5/5! At the moment, I use these together with my blemish patches from A'pieu and they both work really well. I feel that these might be even more gentle and I will definitely repurchase them. They are bit more pricey at 2000Won (about 1€) for 12 patches but I mostly cut them in half so I get about 24 out of the package.
If you are someone, who somehow can't get his/her hands off of the face or pimples, I deeply recommend you try out blemish patches. I love how they protect the wound while promoting healing; I find my blemishes heal a lot faster and leave less of a mark afterwards. I also feel better sleeping without the pimples being in direct contact with my pillow, I find it to be more hygienic although I change my pillow case on a regular basis. If you have any further questions feel free to drop me a comment!
Hope you enjoyed this post; I'll continue soon with my Korea Travel Diary posts 🙂 Have a nice week!
Love,