Happy good evening to everybody,
Wow, can you believe that it's more than five weeks now that I settled to Korea? I certainly can't. It means I have almost exactly 4 months left and telling from my experience in Japan, that will go by very fast. These last 5 weeks definitely flew by like no tomorrow and I am truly happy to be here at the moment. As much as I miss my home, it is such a priviledge to be able to experience yet another culture and society and it is incredibly fun experiencing this.
As for skincare, I am not able to make in-depth reviews yet, so I had another idea! How about I share what I've been loving so far along with some first impressions/mini-review so you all can build your mind up a little bit and don't get hit by a huge wave of reviews when the time is ready. Here are the products that have left a very good impression on me in these first weeks!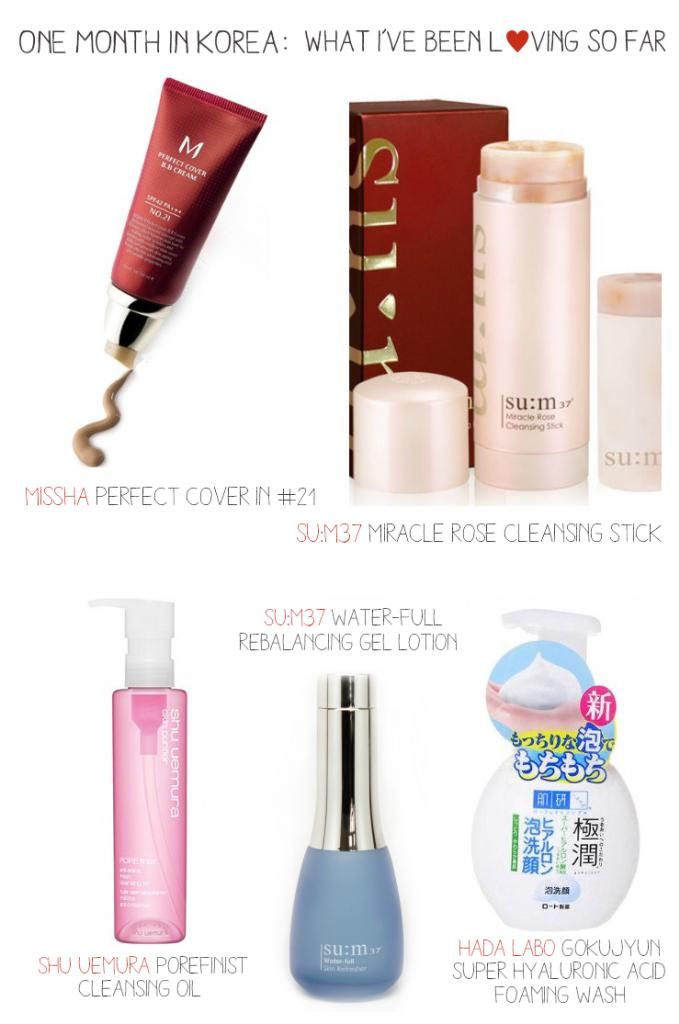 Missha Perfect Cover in #21:
Actually, this was the first BB cream I ever tried. Ever. I somehow was able to live one whole year in Japan and did not try a single BB cream. Yes, that's totally possible. (To be fair, BB cream really is a much bigger thing in Korea than it is in Japan.) As the name indicates, this has pretty good coverage and I use this much more now than my MAC Studio Fix. Coverage is not as good as the MAC Studio Fix but I feel it is much more gentle to my skin.
Su:m37 Miracle Rose Cleaning Stick: This cleansing stick has been the absolute rave lately in the Asian beauty community because it is very gentle, has a perfect PH level of 5.5 and was said to be discontinued, so of course: Everyone wanred it. Living in Korea def. helped to get my hands on this little beauty and what can I say? I personally don't like the smell of roses but this stick is amazing. You only need a tiny amount of product because it foams beautifully on the skin. It feels very gentle and as someone put it – like fluffy clouds and sparkles and happiness. Nothing more to say.
Shu Uemura Porefinist Cleansing Oil:
Already did a review on that
, so in summary: Gets out all the dirt, smells divine, has cherryblossoms in it, is pink, I freaking love it so much.
Su:m37 Water-full Rebalancing Gel Lotion: This is embarrassing, but to be honest: What you see in the picture above is the Water-full Skin Refreshener and not the Gel Lotion. I am so sorry, I only saw the mistake when I zoomed into the picture in Photoshop when I was finished editing, meh. Both bottles do look almost identical so just imagine another label on that. So sorry folks. That being said, I got a sample of the gel lotion and I really really like it. I am constantly thinking if I should get the full size or not. (I already know 99% I will.) It has an overwhelming sweet fragrance of herbs and fruits but the scent comes from natural ingredients like hibiscus only,which I like. Also, this absorbs almost instantly in my skin what makes it amazing as a make-up base and for a morning routine. Might not be moisturizing enough for winter though. (Can you already guess the emerging love for a single brand..?)
Hada Labo Super Hyaluronic Acid Foaming Wash: I bought this before I received the su:m37 cleansing sticks (yes, I already own more than one, to be honest.) so I used it for about 3 weeks straight before introducing the su:m37 instead. Reason I bought this is, because it is readily available at drugstores, it is less expensive than the cleansing sticks and also has a perfect PH level of 5.5 (separate post on why this is important will follow.) This foam doesn't feel as luxurious as the su:m37 MRCS but it gets the job done; cleansing your skin very gently without stripping it off its natural oils. My skin never felt tight after using this and I really liked this. Only thing I'm not too fond of is the smell, it smells a bit like medical soap (or something like that.)
So far for what I've been enjoying so far! I guess I'll also make a follow-up post about products that disappointed me but I would need to use those bit more in order to not misjudge them, almost no product will give you results over night (although I am desperately waiting for something like this.) Thought this would be more productive than the usual wishlist posts I do 🙂 If you have any questions let me know!
Bonus crappy phone picture:
All the samples I got over the course of a month in Korea!
Pretty neat, right? I did give all of the Missha samples (excdpt for one that I forgot, see above) to my cousin and hope she uses them to good avail! I did get all those Su:m37 samples on the right when I bought one(!) item from their brand and it was not superduper expensive. I find, as long as you spend about 20.000 Won (or even more) you get showered in samples. However, last time at Innisfree I only bought two sheet masks and got two full size sheet masks for free. I wish we had that kind of service in Germany. The Su:m37 sample of the gel lotion (little blue bottle in the left) lastet me for a week which I think is pretty great for a free sample. I'm happy I get to try so many products without spending money on the fullsize and possibly hating it. And yes, I mostly shop at Innisfree, Missha and Su:m37. Not it sounds like I'm showing off, that was not my intention. I hope to get many more samples so I can share with my readers and hold a giveaway for you guys! 🙂
Until then, lots of love,