Good evening everyone!
I just recovered from a really bad cold and had lots of time to use my sick-time off to prepare lots of reviews for you! Since I was spending my whole weekend at home I have a lot of socializing to do this week as I only have 15 days left in Korea! Time really flies by so fast.
Today I'm going to review the
Lioele Triple The Solution BB Cream
for you, the first BB Cream that could convince me to sometimes keep my hands off of my beloved BB cushions. I wanted to try the brand Lioele for a very long time as they have one of the cutest packaging ever! Also, I have heard quite good things about this brand so I chose to try this out. Unfortunately, despite being a Korean brand, Lioele is almost impossible to get in a physical store in Korea (as far as I know there is only one physical store in a not very tourist-friendly area). It seems to be much more popular and easier to get in the US. Since I mainly shop online this doesn't bother me too much but I was a bit disappointed of its absence in Korea 🙁 I had no idea!
Disclaimer:
Jolse
has been so nice to send me this product for review purposes. All pictures have been made by myself and my opinion stated are my own & honest words and have not been influenced by a third party. I was not paid to write this review.
I am convinced this is the prettiest BB cream in the world. I showed it to my mom via Skype and she went all "ooohh" and "aaahh" because the cosmetics in Germany are not even close in terms of cute packaging! You get 50ml of product which is a good amount for the price and will, especially with the formula of this product, last you quite a while. I was surprised to see a pump dispenser when I opened it! I actually expected it to be a squeeze-out tube but I prefer the pump as it makes it speaks quality to me and is very hygienic. It's not very heavy and easy to travel around with. Plus, it has SPF 30 and PA++. A big big bonus for this one: It actually contains physical sunscreen (Titanium Dioxide which is second on the ingredients list after Water and Zinc Oxide) which are less likely to break you out or create any reaction in your skin! Physical sunscreens are also more stable than chemical sunscreens under/in make-up. I still recommend you to wear sunscreen underneath your make-up as you will barely use the amount of product needed to reach SPF 30. (A full ingredient list for this BB cream can be found on CosDNA for the curious.)
This is what one pump looks like. It doesn't look like much but the product is actually easily spreadable and I can cover almost half my face with one pump. I use about three pumps to cover my face and the transition on my neck. Its consistency is a bit lighter than the Missha Perfect Cover which feels way too heavy for me now that I discovered BB cushions. This feels quite lightweight in comparison (with Missha) although a bit heavier than my IOPE & Laneige BB Cushion. It doesn't feel or goes on cakey, it's easy to blend and it doesn't cling to dry spots for me.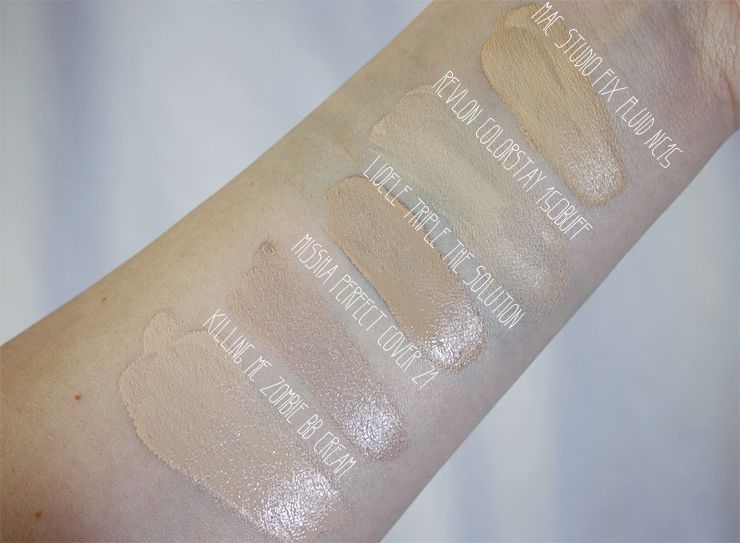 In comparison with some of the other foundations/BB creams I use, Lioele appears to be the darkest and is closest to my MAC Studio Fix Fluid in NC15. As you will see in the pictures below, it does not really look that dark on my face and I quite like this shade on me 🙂 This shade is pretty versatile as some people from NC10 up to NC25 told me this is their daily BB cream they use.
(Sorry for the weird pictures… I took them straight out of bed as my light is almost gone by then already 🙁 ) As always, I only adjusted the lighting a bit in these pictures as my dorm is incredibly dark, especially in winter. I didn't edit these pictures otherwise in order to show how the product works + looks on my skin. I applied one layer of the foundation with my hands (no primer) and I am a NC15 shade with MAC, C21 for IOPE. I had a very bad outbreak because I went off of my acne medication two weeks ago (Doxycycline, an antibiotic). It didn't help me much and was extremely aggressive on my stomach so I stopped using it and immediatly got some bad cystic acne 🙁 I thought I can at least use this to test how this BB cream fares for acne and blemished skin 😀 (Can you tell I am a very optimistic person..? Can't help the acne, let's make at least a useful review for others.)
As you can already see in this picture, this BB cream has some great coverage! You can also see it does a good job at smoothing out my pores. The color is also perfect for NC15-20 skins. Unfortunately they only make one shade of this (something I will never understand, why companies do this..?) so if you are paler or darker than me than this is not for you 🙁
I could have dapped on some extra on my blemishes or used concealer but I wanted to see what this BB cream can do – and I was pleasantly surprised! I feel this is a really good BB cream for anyone with troubled or blemished skin. I can perfect the coverage with another layer or by dabbing on a bit of the Laneige Pore Control BB Cushion if I feel like it. However, I love how natural this looks on me! The finish isn't dewy but also not matte – I really like that it's not overwhelmingly shiny yet it also doesn't make me look dead or dry.
..and this is how it looks fullface! Sorry for the messy hair, I was hurrying as I had to teach my German class an hour later
Do I love this more than my
IOPE XP Air Cushion
? …No. But then again, this is very very hard to beat. Will I keep using this? Definitely! I feel this is a very good alternative to my BB cushions as it provides good coverage, is buildable and has a nice finish. It holds up quite well throughout the day, no major creasing or redness issues (I'd recommend to use rather two thin layers than one thick one as I find BB Creams in general last better when applied this way.) Also, it is cheaper in comparison and I love the fact that it is water-based and contains physical sunscreens. I would def. purchase this again and recommend it if you are on the search for a BB cream with good coverage and a natural finish 🙂
I hope I didn't forget anything this time! If you have any questions left feel free to contact me in the comments or via social media.
Lots of love,