Hello my dear ones,
Thank you all so much for your sweet comments on my and my boyfriends anniversary 🙂 Of course we didn't do anything but at least we had a two-hour Skype session which is something, because my boyfriend hates Skype and telephones in general (I gave him my smartphone when I left but I think he still has no clue on how to use it properly.)
This last week was crazy, I finally held my statistics presentation in Japanese. And boy was I scared!! I am usually not scared of presentations because I like to talk & have no shame so I am not afraid to embarrass myself or anything. Of course having presentations in Japanese was much more difficult but I am luckily at a level now where it does hardly matter in which language I have to present. HOWEVER, statistics was a completely different story. My teacher (also my supervisor for my thesis) is very good at statistics and I was just so afraid I got it all wrong and embarrass myself in front of him. It was a very dark day for me because I didn't present before 5PM so I was feeling miserable all day long. Luckily it went really well and he acknowledged that I worked really hard for this presentation and even thanked me twice (which he usually never ever does.) and since no one told me different it seems I got it all right. Boy, I am still SO proud I did it and now I am kinda excited(?) to see what kind of grade I'll get. (Not that it matters I am so proud that I survived.)
I still have about two more weeks of university (and then some Japanese courses left) and then finally this term is over and I can enjoy my birthday, go shopping and, most importantly, work on my thesis.
Today's post is something I had in mind now for quite some time but just never got around to do it; It's about acne products in Japan or blemish treatments in general. I was searching the Internet and realized that there is not much information about that topic at all in English. I also realized that it is very hard to find treatments for blemishes or acne in Japan since acne just isn't a huge problem for most Japanese. Of course people do have pimples and some also do have acne but the huge majority in Japan does not which is why there are so few products out there and these are even hard to find. I went to some major drugstores to compile a list of acne products available in Japan: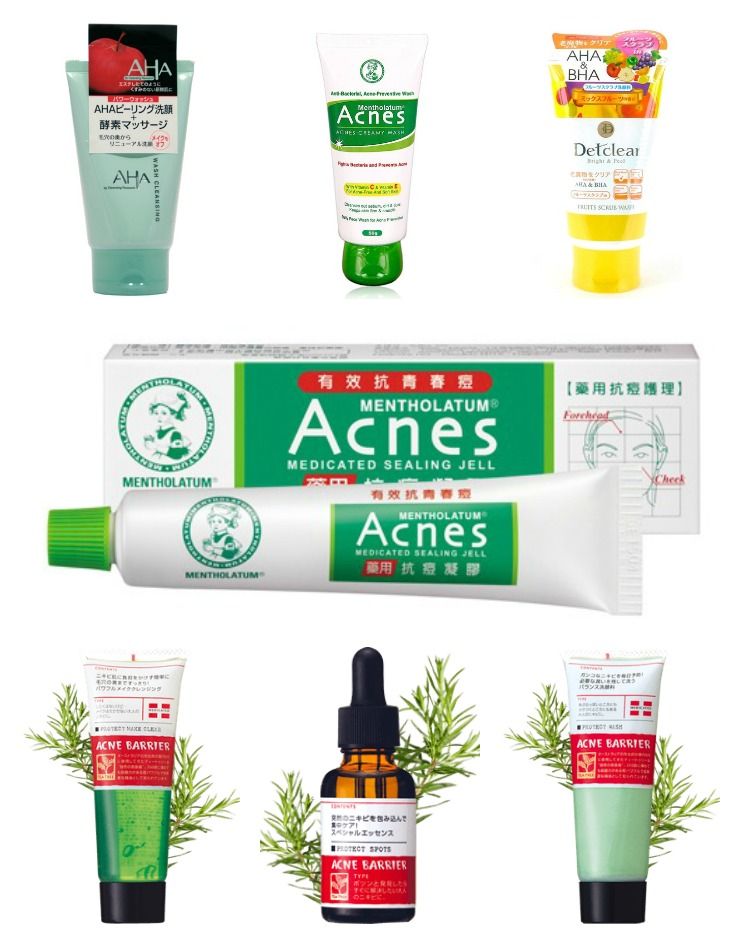 #1 AHA Wash Cleanser, #2 Mentholatum Acnes Medicated Wash Gel, #3 Detclar Bright & Peel Wash, #4 Mentholatum Acnes Medicated Sealing Jell, #5 Acne Barrier Gel Cleanser, #6 Acne Barrier Protect Spots Tea Tree Treatment, #7 Acne Barrier Foam Cleanser
Out of these products, I am currently using #1 and #6. I'll make a separate review about these products but they seem to be quite promising so I'll make sure to update you when I can say for sure. If you remember I did buy the trial size for the Acne Barrier Protect Spots Treatment and I will definitely get the full size! I really do like this one and review will follow soon since I almost used up the trial size. Down side with the last row of products: So far I could only spot these at Parco in Shibuya but they didn't have these products in a regular drugstore. If you are in Japan you can order them online. There are some reviews about the Acnes Wash Gel which seems to be quite harsh so I don't recommend this when you have sensitive skin. So long, I could not find the Detclar Bright & Peel Wash 🙁 I really wanted to try out this insetad of #1 but since they didn't have it in stock and I ran out of my usual cleanser (La Roche Posay, double the price in Japan which is why I'm searching.) I bought the AHA wash instead. So far it's not bad but I will definitely get the #5 or #7 Acne Barrier Wash next month, if I can't get this in Tokyo I will order it online.
As for #4 the Sealing Jelly, I have read great reviews about this but did not get it so far since it seems to be a similar (drying) treatment like the La Roche Posay Effaclar K that I own. I did get a different cream from this brand however and will also make a review once I can build an opinion on that, just bought it yesterday and it is the
Acnes25 Medical Cream
I really hope it does work because I just broke out really bad two days ago for no particular reason… (
thank you body
.)
I hope this post may be helpful for anyone with similar skin troubles who is living or attempting to go to Japan in the future, there are treatments out there but it may be very hard to find in local drugstores especially if you are not living in the area of Tokyo. However, especially in Japan you can almost order anything online and as far as I checked it is possible to get most of these products via Ebay 🙂
Have a lovely Sunday! Lots of love,