[Happy St. Nikolaus Day!] Asian Beauty Christmas Present Ideas
Happy St. Nikolaus Day everyone!
Today is the 6th of December which means it's St Nikolaus Day – I think that's probably only a thing in Europe, my American friends knew about it but said it's nothing special in the US. Since there won't be anyone here filling my shoe with treats I made a little present for my roommate and gave her some Christmas cookies and German spiced cakes with dark chocolate. She will move out next week and I'll probably be alone in my 3-person-flat until the end of January – not complaining, I like it that way and also she was almost never there anyways. Nonetheless I'm a bit sad, I really like her although we only had a conversation…. once a month or so. On December 21st almost everyone in my dorm is leaving for home so it will be oh so holy silence (I just found out I am way too old for living in a dorm, this will def. be the very last time. Mid-twenties isn't really for dorm life anymore.)
A few days ago when I left the karaoke bar in the middle of the night there was sudden snow everywhere. It was beautiful. So with Christmas slowly approaching, I decided to do a post about Asian Beauty related Christmas ideas. I actually wanted to post this last Sunday on the 1st advent but life happened and got in between. My boyfriend's older brother turned into a father this week when his son was born on Wednesday! Family has a new member when I return next year 🙂 So that's why the delay and I'm also working on applications (when I really should work on my thesis, oh my..)
I got lots of questions the last weeks about possible Christmas ideas for moms/sisters/cousins so here I present you…. Asian beauty related Christmas ideas for every budget! 🙂 It's a mix of very affordable items such as Etude House, more fancy ones such as Laneige and quite expensive special ones from Stila. Enjoy!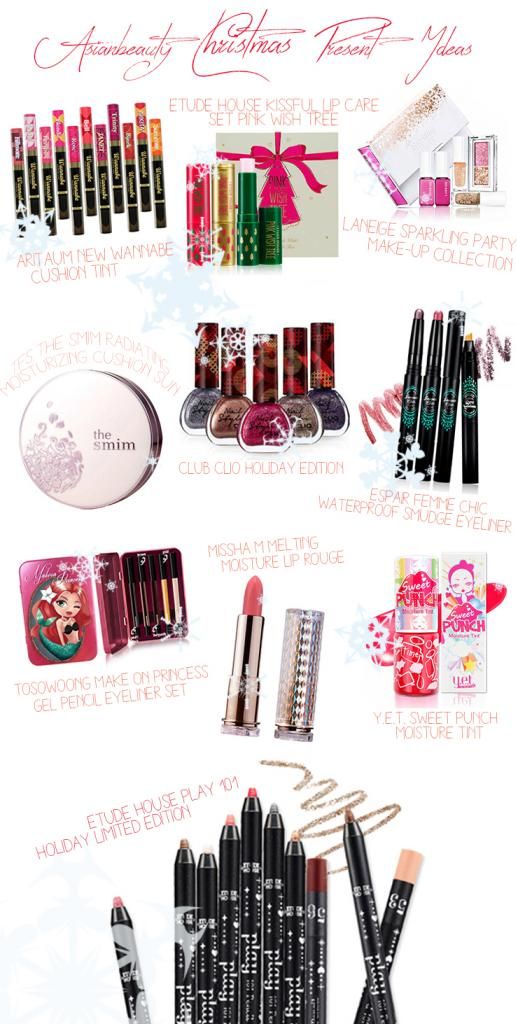 More present ideas after the break! 🙂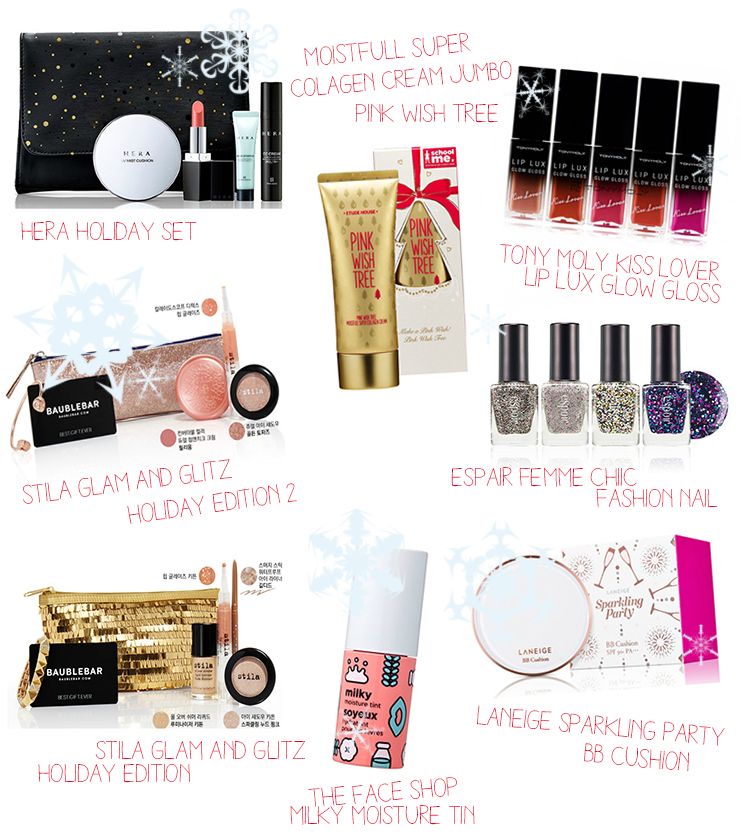 Some of the things here I am eyeing myself… I am still debating whether to get the Laneige Sparkling Party set or not. I should probably save some money.. I still have to get stuff for a zillion people. Most items can be found either on
Wishtrend
or
Jolse
– only a few I did find on Gmarket but I tried to limit those so that you are actually able to get the stuff in case something caught your eye 🙂
Happy shopping everyone and don't forget your loved ones this month!
Love,