Everyday Look with Etude House Dear My Wish #BE102
….good evening everybody!
For some reason, I am always blogging in the middle of the night at the moment. Probably because no one is online in my timezone to talk to, and I don't have much to view these days sooo… online shopping and blogging it is! Today I wore one of the Dear My Wish lipsticks from Etude House for the first time and I must say I reallyyy love this shade! It's perfect for me. Not too much in your face (so that I have to be afraid looking like the joker if I'm not careful) but you def. notice that I am wearing something. I originally wanted to get #BE101 but this might be exactly my lip shade so you didn't really see any change. If I put the effort to paint my lips I want people to notice 😀
So when I came home today from university I thought I'd try to take some pictures… it was already dark so not much light to play with around. I am really sorry that there hasn't been any look or make-up post in like… forever. Background: I only took my standard make-up in a small pouch with me on my Japan-Korea journey (unbelievable, right?) I also didn't really buy anything in Japan beauty-related (unbelievable, right?!) and on top of that from May on it was just super sweaty extremely hot summer so that I barely even did my make-up because it vanished into the sweat after an hour. Yeah. So. That's why you haven't really seen my face much around! Now that it's winter and now that I am venturing into Happy Korean Beauty Wonderland, we def. have to change that. So here's my "sitting in university all day long" natural look featuring my new lipstick 🙂
As already said, I really like this shade. It kinda makes my eye pop (or am I imagining that..?) I was sceptic of a "beige" shade but it is not really beige – I would probably describe it as a neutral-rosy shade. If that makes any sense. It does have a bit of pink and red in it. It glides on extremely smooth ( a bit too smooth for me actually it easily smudges all over your lips if you're not careful) and is not drying. It doesn't last extremely long (2-3 hours maybe?) but it fades very naturally so I don't mind as it is not high maintenance 🙂
By the way, the white fluffiness you see here is the new sweater that I showed you
in my last post
! 🙂 They shipped out my order about 1 hour after I ordered and it arrived the next day (today). Both pieces are of good quality and way thicker than I thought! Very happy with this purchase, especially for the price 🙂 (And woah, I really need to get a haircut. No wonder I am wandering around with a ponytail-exclusive hairstyle, ny cut from July is kind of non-existent :/ Is July already almost half a year away..? )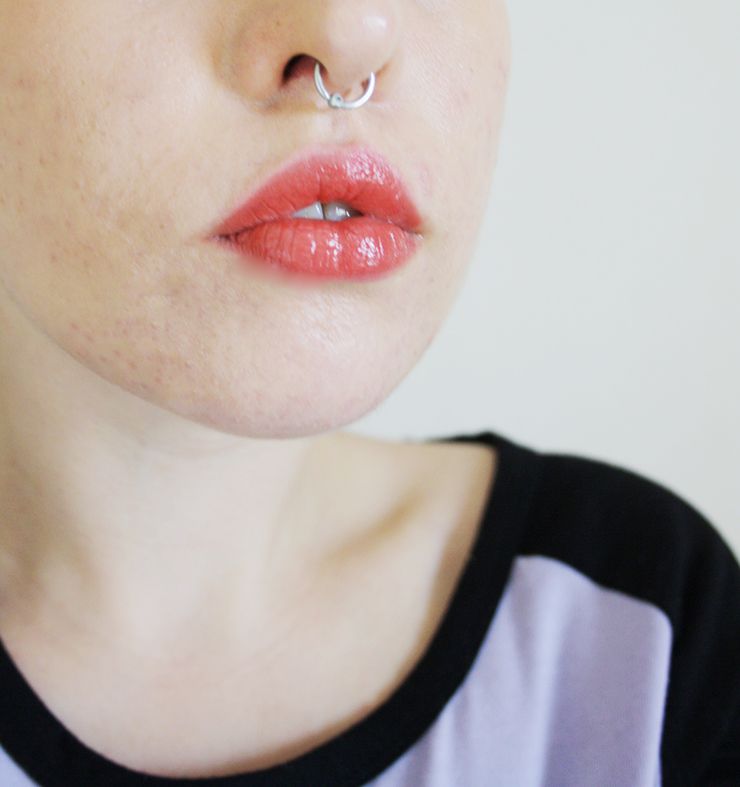 Close-up of the lipstick. As you can see the shade looks slightly different in every shot. I usually like dark colors much more for fall but I feel this is a color that would work all year round! The finish is quite glossy although that doesn't last very long. In the last pic I only applied the lipstick short before taking the picture. In the first pic, I did wear it already for some time.
Other products used: IOPE Air Cushion XP in C21, Peripera Eyebrow pencil in brown, Sleek "Oh So Natural" Palette, Maybelline Colossal Volume Mascara in Waterproof/Black
This is really nothing I put a lot of effort in, just how I look everyday without any special occasion.
Should I create looks for the other colors I bought from Etude House..? Would anyone like to see that? 🙂
It's 2:22AM already and I really should go to bed. Have a fabulous weekend everyone!