ETUDE HOUSE HAUL [+ Dear My Wish Lipstick Swatches]
Good evening everybody!
So sorry for the long silence. I have been pretty busy with presentations in university and I spend the whole weekend sleeping at a friend's place. My best friend here in Korea, Susan -which I met 2 1/2 years ago in Japan- is living outside of Seoul so when I decide to visit her I will stay more or less the whole weekend. And what can I say. It was freaking amazing! I love this girl so much, we are having just the best time. We did eat lots and lots of food in Seoul before moving home and spending the night binge-watching all the new Sailor Moon Crystal episodes while being in Korean snack heaven. We also did face masks together and Susan was pretty disappointed that I use so little products in my skincare routine! I told her this is a lot, since I only used cream and cleanser before I came to Korea (unbelievable, right? What was I thinking.) and that my skin goes crazy if I suddenly use 10 products. I am slowly upping though.
Anyways. I'm currently on a no-buy skincare thing because Germany and Korea both decided to not pay me. Okay, that's fine with me. I can survive on my own. HOWEVER, skincare doesn't imply make-up right? RIGHT? And to be fair, I did not buy ANY make-up items in Korea with the exception of the IOPE cushion which was on sale – which automatically brings me to my next point. After a really shitty day on Friday I passed the Etude House store in my street as usual when I saw that something was different. Instead of a completely empty store (like usual) it was crowded like hell with people. And then I saw the magic words "BIG SALE. 50% OFF." And…..what can I say. We are all just weak humans.
This is actually the first time I bought anything Etude House related since I came to Korea – funny, thinking that I always visit their store in Harajuku. It's just that Korea has so many amazing items that I get overwhelmed and buy nothing in the end (and regret it when I get home.) However, I was eyeing the Dear My Wish lipsticks for a while so I decided to see if these were also on sale – as it turns out, everything was on sale, with at least 30% off. Even limited editions! Come on, I am not that strong of a person. The sale only lasted from Friday to Saturday so I was lucky I saw it. It's the first time I saw Etude House having any kind of bigger sale. When I went home, I instantly regretted that I didn't buy more (but I was on a non-buy, so I had good reasons.) However, the sale was really good so I convinced my super awesome friend Susan to visit the store again on Saturday! 😀
PRINCESS HAPPY ENDING NAIL KIT – BELLE
For weeks I was searching for a really deep pink nail polish but all the ones I found were still too flashy for my taste. When I saw this, I just knew the color was perfect. I pondered back and forth but in the end, I thought, I only live once in Korea, whatever! I also fell in love with the champagner-apricot-gold color in this set – both colors are SO pretty and have very good coverage (1-2 coats are enough for full color!). The champagner color is way more pretty on the nails than in the bottle, I was very surprised. Also, the design of the bottles is to die for… and I didn't know the set also includes nail sticker! With 30% off this was 6300Won (~5€).
I have 40 facemasks from Etude House waiting at home for me (remember when I said I took advantage when my boyfriend went home with not-so-full-luggage? Yeah.) but I didn't use them in a long time, I was too busy trying out other brands. While My Beauty Diary masks left me pretty unimpressed, I love Etude House facemasks for their price/quality relationship! The Pearl mask didn't do anything for me, so I won't repurchase this. The snail mask however….WOAH. My skin felt amazing for two consecutive days. Love love love this one, didn't use the VitaComplex yet 🙂 Etude House facemasks are 950Won, I paid 450Won on sale (~30cents…?) I should have gotten more but, I didn't want to go overboard. No-buy and all.
DEAR MY WISH LIPSTICKS #PK002 – #BE101 – #BE102 – #RD302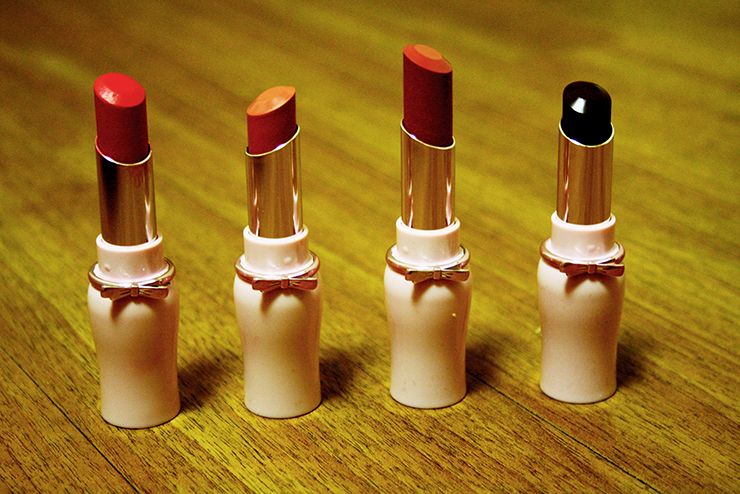 I did buy the pink lipstick on Friday just to be wanting more some hours later (I'm pretty sure I bought the wrong shade and wanted PK003 but well. I just mix it with the dark red now.) These lipsticks are crazy pigmented. The swatches are only one swipe, no after-swiping or building up the color. Like, really, the color which is on the package is the color that you get. It glides on smoother than lipgloss and has a moisturizing feeling to it – I don't find these drying at all! (And my lips are dry most of the times :<) In order to make the lipstick more lasting I'd recommend a lip primer/foundation and a lipliner though. Due to the creaminess of this lipstick it is not the most lasting in the world – I absolutely prefer this over overly drying ones though. I bought BE101 for my mom, because her birthday is a week before I leave so I'll bring her lots of goodies! She always wears lipsticks and loves all cute things, so this is perfect for her. BE101 looked extremely like my own lips with almost no change at all, so I went for BE102 for myself. As for RD302 it is a gorgeous deep burgundy that I just really like for fall. PK002 + RD302 in combination look amazing together and create a deep raspberry pink 😀 The lipsticks retail for 9900Won but I only paid 6300Won each (~5€) For everything (2 nail colors, 1 nail sticker set, 3 sheet masks and 4 lipsticks) I paid about 30$/25€ which would have been 50$ or more otherwise 🙂
I don't regret anything.
That's it for my haul! On Sunday, Susan and I went to watch
INTERSTELLAR
. [
NO SPOILERS
beyond this point, I promise. I hate spoilers.] Won't say a word about the story, but WOAH. That was the best film that I've watched in a loooong time. (Pretty exactly since Inception). I first thought it's your usual "humanity needs to leave the planet" story but boy was I wrong. This movie is a 3-hour emotional rollercoaster. I cried five times. Susan too. The whole cinema actually. I never experienced something like this, I cried like a little baby. Oh my god we were both so emotionally exhausted after this and went half-crying to the bathroom. This movie really gets you thinking and wondering and just…. amazing. If I can give you a piece of advice: Watch this in cinema. This movie is so extremely beautiful from a visual point of view, your money will be well invested. Not sure if the movie has the same impact on a small screen at home. I was adoring the cinematography throughout the whole movie, ah. [I should add I usually am not much of a movie person.] I am still so in love I might go and watch it again because it's a fucking amazing film. Word. It left me shaken and broken and questioning my own existence (I'm not kidding.) I will not link the trailer because one of the trailers sucks bad (as in it absolutely does not convey the awesomeness of the movie) and the other one gives away a HUGE OMG-moment which would be sad because that scene is totally dope.
Yeah. I really enjoyed this movie. Go watch it. Now.
Hope you enjoyed this haul of mine! If you have any questions let me know in the comments! 🙂
Lots of love,